Consultation room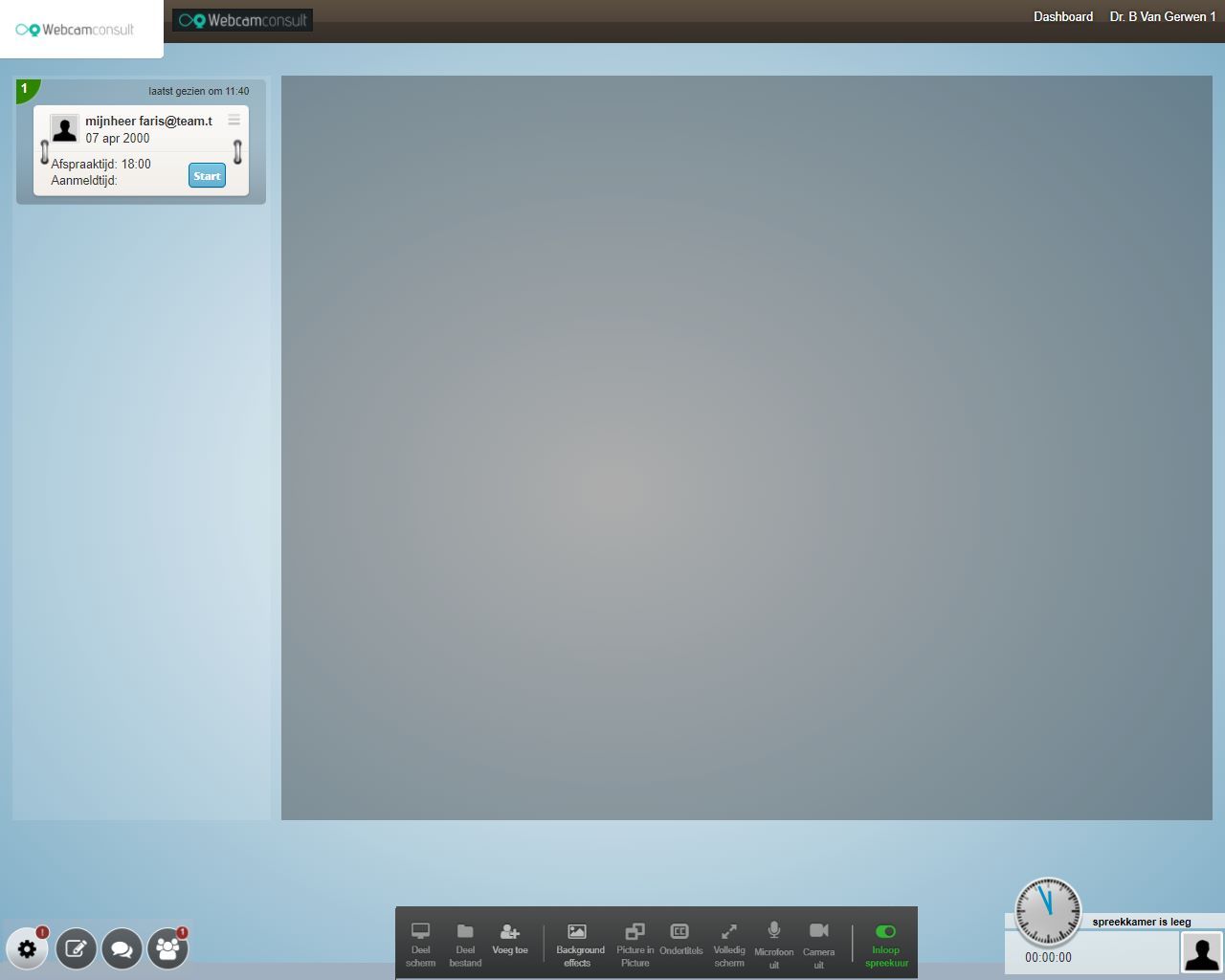 My organization
In this block you manage the various organizational settings of your own webcamconsult surroundings.
Here you can complete your profile information:
General data such as name and telephone;
Change your password for the online consultation room;
Upload a profile picture;
Choose your department and your role.
Diary management and consultation room
In practice, this menu section will be most commonly used by the Department Administrator. This is where contact and appointment details of clients are kept. If you have a link with your client, EPD or CRM system, this menu block usually does not work.
Here you can see an overview of the appointments scheduled for today. Displayed clearly in colors per department/practitioner.
Client Texts
The Webcamconsult system displays notices or messages to your clients at various times. In this menu section you can adjust these messages to your own taste and situation.
You can set these announcements yourself, after which they become visible to waiting patients in the online waiting room. This is useful if, for example, you have a 10-minute run-out. You must delete the message afterwards.
As of October 1, 2021:
The service announcements, or the functionality to display real-time messages in the waiting room, has been expanded. It is now also possible to display a message for department appointments. It is also possible to set an expiration date for a service announcement. After this expiry date, the communication will still be saved, but will no longer be displayed. In addition, a button has been added to delete all announcements at once.
Support
In this menu you can contact us through us or ask a problem/question related to the use of your Webcamconsult surroundings.
On this page you will find plugins for Google Chrome and Firefox for screen sharing. You should preferably install this in advance. The corresponding links will take you to the plugin's page in the extension libraries of Chrome or Firefox, respectively.
For Microsoft Internet Explorer 10 or higher, a plugin is automatically installed when you do the hardware test, via the button at the top right of your webcamconsult site.
Safari on the Apple Mac computers/laptops unfortunately does not support screen sharing. screen sharing is also not supported on tablets and smartphones.