A consultation with someone who speaks another language? Or with someone who is deaf or hard of hearing? As a practitioner, you can now have your conversation translated and/or subtitled. With the push of a button you turn on the translation option. Watch the video below!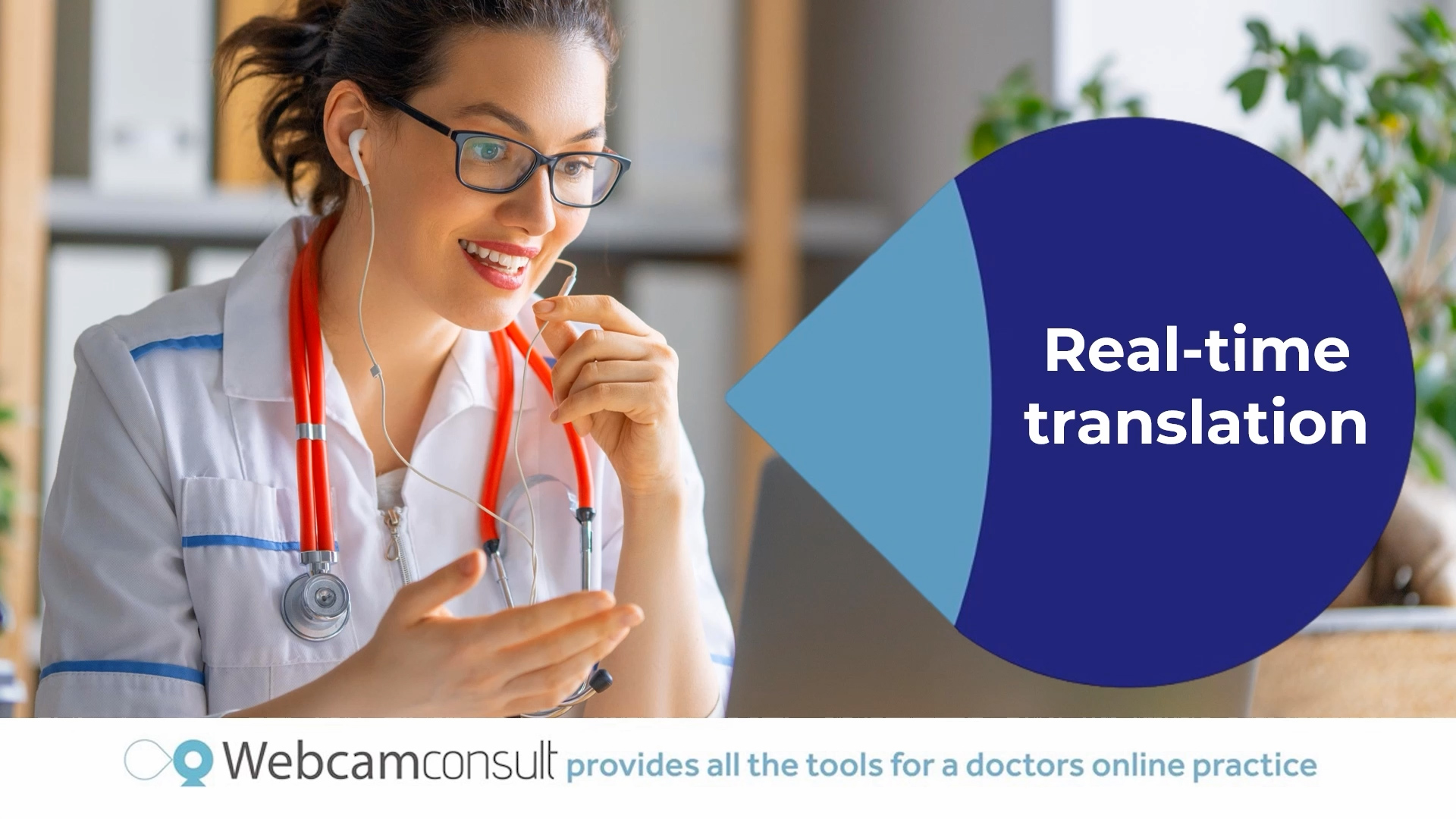 Real time translation and subtitling is now directly available via the cc button in the black button bar at the bottom of the video consultation screen. The language of the practitioner and the patient can be set here.
The subtitle functionality is also available for the deaf and hard of hearing. Here too, any desired language can be set and the person with hearing problems can follow the conversation through the real-time subtitles in the video consultation screen.
Real-time translation tips
Headset microphone. One of the most important factors in improving speech recognition is using a high-quality headset microphone that holds the microphone in a consistent position directly in front of your mouth; desktop microphones usually provide less desirable speech recognition results because they don't consistently stay in front of your mouth.
Eliminate echoes and noises. Another measure that can improve your computer's speech recognition accuracy is eliminating background noise by installing carpet, tapestries, or soundproofing material to reduce noises and noises that can interfere with your computer's ability to understand you.
Further tips:
Speak in an even tone and clarity. When you whisper, words cannot be interpreted correctly;
It is always better to pause before and after a sentence and not take a break in the middle. So that it could not be properly interpreted;
prefer full sentences, even including punctuation, to give proper context;
When you have a consultation, regularly check the text box (on the right) to see if there is any misinterpretation
View the list of browsers (versions) that support speech recognition required for translation.
The following languages ​​are available:
English

German

French

Spanish

Dutch

polish

afrikaans

Arabic

azerbaijani

armenian

basque

bengali

bulgarian

Bonrappu (Berrapua)

Chinese Simplified

ChineseTraditional

Czech

Danish

Farsi

filipino

FinnishSuomi(Suomi)

catalan

CroatianHrvatski (Hrvatska)

galician

georgian

greek

gujarati

hebrew

Hindi feat

Hungarian Magyar (Magyarorszag)

icelandic

Indonesian

Italian

Japanese

javanese

Khmer

kannada

Korean

lao

LatvianLatviesu

lithuanian

Malayalam

marathi

malay

norwegian

nepali

persian

Portuguese

Romanian

russian

Sinhala

slovak

Swedish

sundanese

serbian

Slovenian

tamil

telugu

Thai'ng

Turkish Turkce(Turkiye)

Ukrainian

urdu

VietnameseTiengViét(VietNam)

zulu