Accessible in use
Extensive online waiting room functionality, in line with every care process
Secure video calling, chatting and sharing documents
(NEN 7510 and ISO 27001 certified)
Flexible integration with any system, such as an EPD or website
THE AMAZING SLIDESHOW ADDON!

Want to make your website more attractive? Get a stunning hero
section with the Slideshow addon in SP Page Builder Pro.
It's easy, fast, and gorgeous.


LEARN MORE
Webcamconsult
brings doctors and patients
together securely!
Secure video calling and chatting (ISO 7510)
Can be integrated with any system (including EPD)
Easy in use
Safe video calling directly or by appointment
Video consultations form the basis of Webcamconsult. After booking the appointment, the client or patient will receive an email with a unique link. Click on this just before the conversation starts. The practitioner calls the client or patient in at the agreed time and the video consultation can start. In addition to the conversation between the client or patient and the practitioner, other stakeholders can also join a video consultation. For example, carers or parents can be added to a conversation. Other specialists can also easily be added to the conversation. Files and screens are easy to share. The quality of the connections are automatically optimized, so that the practitioner can fully focus on the client or patient.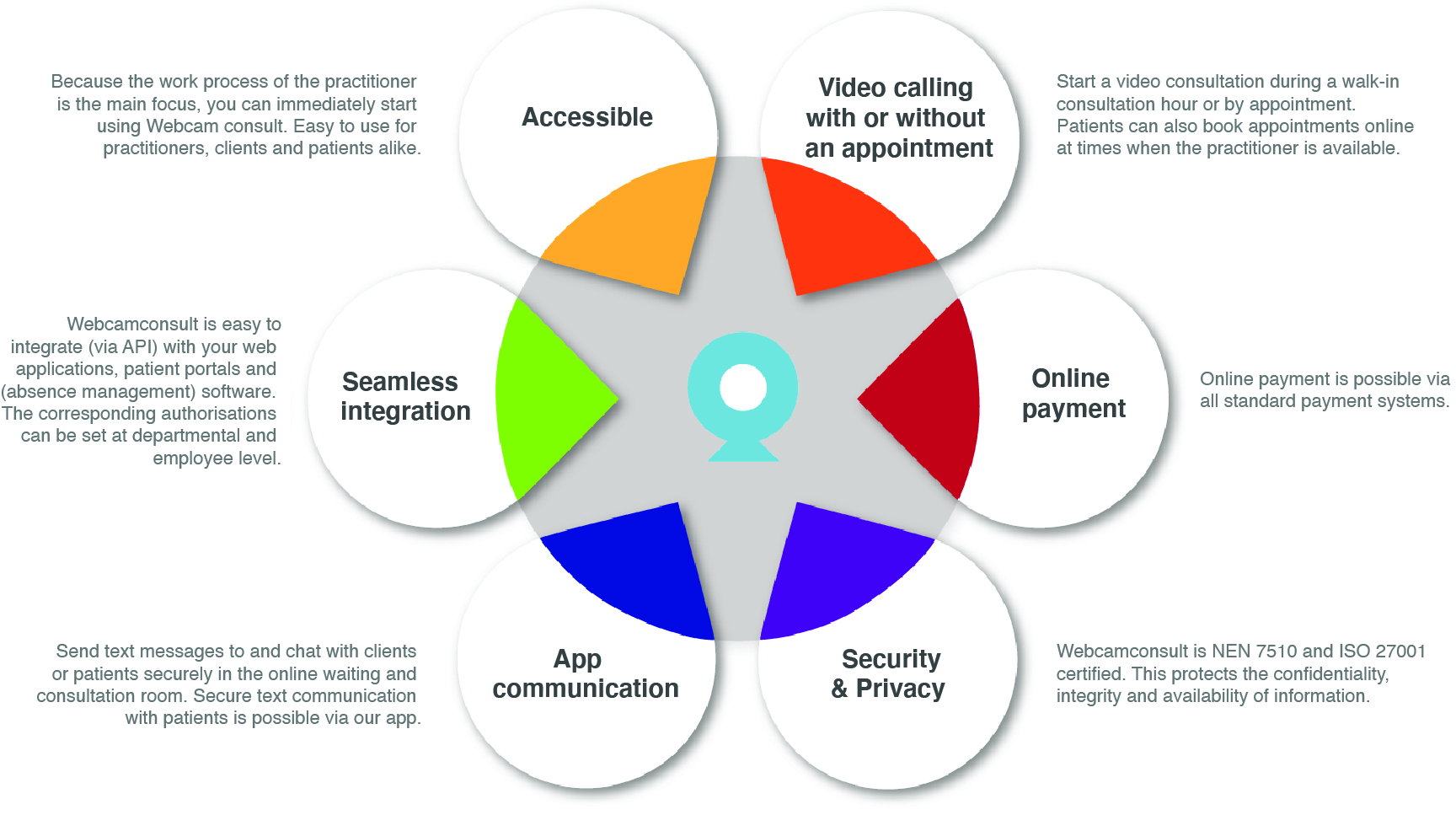 In addition to the fact that a video consultation has an absolute added value compared to a regular telephone call and patients/clients also increasingly ask about it themselves, there are 10 reasons to start with Webcamconsult today:
We help you achieve goals in the field of digital care;
The ease of use for practitioner and patient or client is paramount. Communication can be done via laptop, smartphone or app;
Your systems and working method are central and we adapt to this. This makes scaling up to large groups of users easier. Everything is possible in the environment they are already used to;
Webcamconsult is developed by healthcare professionals. Our founders are doctors themselves and we develop our services in collaboration with the healthcare sector;
Innovation is important at Webcamconsult. We are a frontrunner and continue to develop and add functionality based on the wishes of users and clients;
Unique offer in functionality. Real-time translations of video consultations, a walk-in consultation hour, booking and payment options and a message service are a few examples of this;
Integration with your systems prevents duplication of work;
Security and privacy are guaranteed;
Robust: our system processes many millions of video minutes worldwide every month to the great satisfaction of our users;
Trying it out is simple and free. Start today with Webcamconsult and experience the ease of use.
And for those who are not yet convinced; Also think about patients/clients who are a bit further away, make your region bigger. And a webcamconsult is simply reimbursed by insurers.
Would you like to start immediately with a video consultation?
A walk-in consultation hour on your website?
Take the next step in your digital communication!. Have your patients or clients sign up for an online when you are available walk-in consultation through your own website. This is included in every subscription, so you can get started at no extra cost. Read more.
Client or patient can book the appointment themselves
It is possible for the client or patient to schedule an appointment themselves. This can be done through your own website. It ensures that they do not have to wait unnecessarily long to make an appointment and it saves you the time you normally spend booking the appointment.
Keep your finger on the pulse with the chat and app message box
Before or after the video consultation, patients or clients can safely chat or app with their practitioner.
Practitioners decide for themselves which patients or clients can use this messaging service and who can use the Webcamconsult app can communicate with them. The app works via a secure chat environment (based on QR code authorization). It also provides an overview of all future appointments. The app works on smartphones and tablets (iOS or Android).
It is possible to enable the chat function for use in the waiting room, during the call, or after the call webcamconsult. The messages can, if desired, be stored per patient or client.
By default, messages are not saved. Our starting point is that the message traffic is safe, and the practitioner or healthcare institution determines which data may be kept. The chat management system available helps you manage message boxes at the client/patient level.
This is a handy feature for practitioners who prefer to pay immediately after booking or completing a consultation. You can use Stripe and your Paypal account. Stripe has a choice of Checkout (credit cards), iDEAL (NL), Bancontact (BE), Giropay and Sofort (both DE). And: do you want a different payment method? We can integrate them to suit. This way you are assured of payment and the client or patient can fully focus on the video consultation.
Seamless integration with your patient record
Webcamconsult is easy to link and integrate with a large number of systems. We have links with various software. We also integrate with patient platforms, Health and Safety software. Webcamconsult has an API available so that an integration can be realized in the foreseeable future. In this way, a start can be made quickly and efficiently with video calling.
We can connect to any system and feel free to contact us to discuss the possibilities.
Fully tailored to your process
Webcamconsult is very flexible. We adapt ourselves completely to your working method and work process. In addition, an enormous amount can be customized according to your wishes: your logo, color scheme, the texts for the invitation email and texts of the standard messages. More or other wishes? Inquire about our White Label options from Webcamconsult.
Scale-up and implementation partners
At larger institutions, Webcamconsult seamlessly integrated into processes, working methods and systems. Our expert partners are happy to assist you with the implementation and help you achieve your objectives. For example, we work successfully with, for example, Acknowledge, 'tBureau, Medify and Visma Verzuim.
Last but not least: Security & Privacy
Safety is number one at Webcamconsult.
We recognize the importance privacy and security other and are NEN7510 certified. NEN7510 protects the confidentiality, integrity and availability of information. Of course Webcamconsult also ISO 27001 certified.
We recommend our Freelance subscription for the self-employed. We have Multi-User subscriptions for group practices, hospitals and other institutions.
Freelance
Subscriptions
(1 user)

Multi-User
Subscriptions
(multiple users)

Organization management module

✓

✓

Number of practitioners

1

Depending on subscription

Departments

-

✓

Number of clients

unlimited

unlimited

Number of consultations

unlimited

unlimited

Duration consultation

unlimited

unlimited

Secure database
✓
✓

Department waiting room

-

✓

Consultation room background adjustable

✓

✓

Virtual consulting room

✓

✓

Set text email

✓

✓

Set default texts

✓

✓

Chat during video consultation

✓

✓

Set up message box, chat and app

✓

✓

Book and invite appointments

✓

✓

Automatic email reminder
✓
✓

SMS reminder (costs for SMS traffic)

Optional

Optional

Direct (ad hoc) consultations

✓

✓

Online questionnaires, anamnesis form
✓
✓
Real-time translation and subtitling
✓
✓

Walk-in consultation hours on your own website.

For 1 site

Unlimited number of widgets

Booking system for clients or patients on your own website

1

Unlimited number of widgets

Share screen

✓

✓

Share files

✓

✓

Edit collaborative documents

✓

✓

Real-time subtitling/translation of video consultation

✓

✓

Multilingual (EN, DE, DU, FR, IT, ES POR, POL, SVE, NL)

✓

✓

Online payment option

✓

✓

Integration option patient portals

-

Optional

Integration possible with EPD, ERP, CMS

-

Optional

White label version

-

Optional

Data protection (GDPR, NEN 7510, ISO 27001)

✓

✓

HL7 Messaging service

-

Optional

API for developers

-

✓
System requirements
Windows, Mac:
Installed webcam, with current drivers. We recommend using the latest versions of the browsers Chrome, Mozilla Firefox or Microsoft Edge.
Electron (latest release version)vvv
Google Chrome (latest release version)
Google Chrome for Android (latest release version)
Firefox (latest release version)
Firefox for Android (latest release version)
Microsoft Edge — Chromium-based versions of Edge (version 79+) are fully supported
Non-Chromium versions of Edge (from version 17) have beta support.
Safari 11 on macOS and Safari on iOS 11
Opera (latest release version)
Internet Explorer works from version 11 with the automatically offered plugin. After July 1, 2021 there will be no more support for Internet Explorer. Therefore, it is recommended not to use this browser. Alternatively, we can provide you with an installable program'Webcamconsult for Windows' offer.
iPads and iPhones:
iOS 9 and higher (Safari), iPhone 5S or higher, iPad 2017 or newer
Tablets and smartphones with Android:
Android 4.1 and higher on a smartphone/tablet with webcam.
Ports & Firewalls:
Hospital use: Firewalls require port 443 and UDP 3478. Port 443 is used by default for secure https connections, but UDP 3478 must be actively opened by the ICT department. In most cases it is possible to establish a good peer-to-peer connection via port 443. If this fails, the system will look for a way via UDP 3478.